Venice Lagoon Plastic Free (VLPF), in close cooperation with the Ecomuseum of Venetian Lazzaretti, presented on April 4th, the results of macroplastic monitoring carried out from spring 2021 to date on the island of Lazzaretto Nuovo, as part of the European H2020 InNoPlastic project (https://www.innoplastic.eu/). The presentation was held in synergy with the INTERREG Italy Croatia HATCH – Hadriaticum DATA HUB project and shared with the Italian and Croatian partners of the project, including CORILA – Consortium for the Coordination of Research on the Venice Lagoon System.
In 2022, VLPF and the Ecomuseum of Venetian Lazzaretti signed a memorandum of cooperation for the enhancement of the cultural and environmental heritage of the island, which serves as an excellent laboratory for monitoring macroplastic pollution.
The work carried out is of international interest to the point that on the occasion of the fourth Marine Litter (ML) activity held in February 2023, the Canadian documentary series "Espèces d'ordures" on TV 5 Monde dedicated an episode to VLPF monitoring work on the island.
The monitoring carried out on a 100-meter transect along the eastern side of the island made use of internationally codified protocols in line with EMODnet Chemistry, according to the Marine Litter Database (MLDB) format.
In particular, the data showed a relative homogeneity in the number of objects collected from 2021 to 2023, with the exception of September 2022.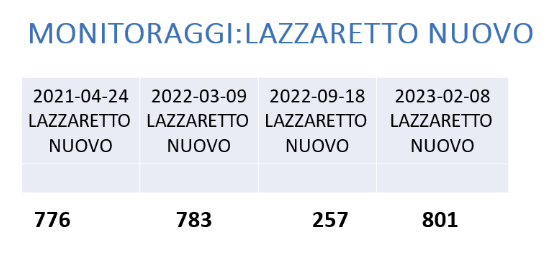 The density found is approximately in line with the Italian average of 8 pieces of marine litter per linear meter. The European threshold for considering a beach in good environmental state provides for less than 20 abandoned waste every 100 linear meters. The level of macroplastic pollution is therefore high despite the island having no resident population or any form of mass tourism. Therefore, it is evident that the beach waste found is exogenous to the island. Furthermore, the data also homogeneously showed a high number of plastic fragments that could not otherwise be identified, with a size greater than 2 cm and less than 50. This would confirm the presence of a stratification of marine waste on the island that tends to fragment and break into smaller pieces over time.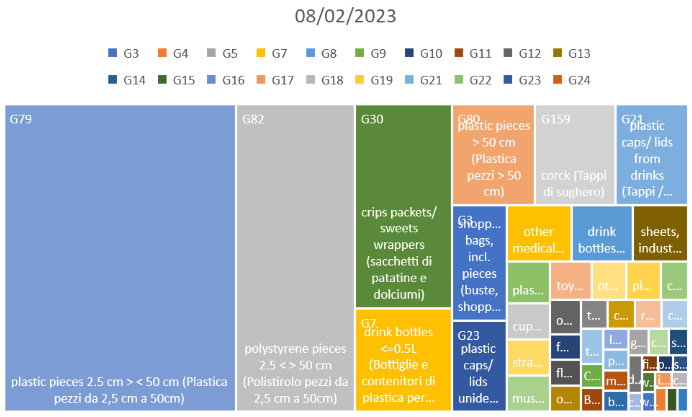 In addition, polystyrene pieces, along with bottles and packages of chips and sweets with urban-recreational characteristics, are in second place in terms of the number of items found.