Venice is part of a uniquely delicate ecosystem – yet it falls victim to a series of man-induced issues. As revealed by extensive research on the Adriatic Sea, Venice Lagoon is affected by a number of pollutants due to both its exposure to a high concentration of manufacturing and industrial activity (including mass tourism) and to the shape of its mainland and coastlines. Many of these pollutants derive from a high density of macro- and microplastics in the environment.
Among the macrolitter and pollutants in the area are 'ghost boats': unregistered fibreglass boats which are abandoned by their owners along Venice's waterways and canals. These now lie, stranded and sunken, in places which are often difficult to reach and generally not well-visited. This does not mean, however, that these locations are any less loved and respected.
The presence of these boats contributes to the release of macro- and microplastic pollutants deriving from their fibreglass, paints, and metals. These boats also obstruct the lagoon's waterways, which can create dangerous obstacles for other boats when the tides change, as well as posing a threat to Venice's natural beauty and surrounding landscape.
Thanks to the invaluable support of Cantine Maschio, we at Venice Lagoon Plastic Free have been able to develop and implement a number of solutions to tackle the problem of ghost boats in Venice.
Cantine Maschio
Cantine Maschio is a winery with its roots deeply intertwined in the local area, which stretches from the slopes of the Dolomites to the Venetian coast. Their long-standing experience in the production of sparkling wines, marrying centuries-old tradition with more modern methods, means that Cantine Maschio is celebrated internationally for its prosecco.
Gabriele Cescon, Director at Cantine Maschio, has explained that their commitment to sustainability is "put into practice through an ongoing monitoring of our production processes, with the constant aim to pursue less invasive models." The company believes that true sustainability can only be achieved through assessing the socio-economic effects of those good practices.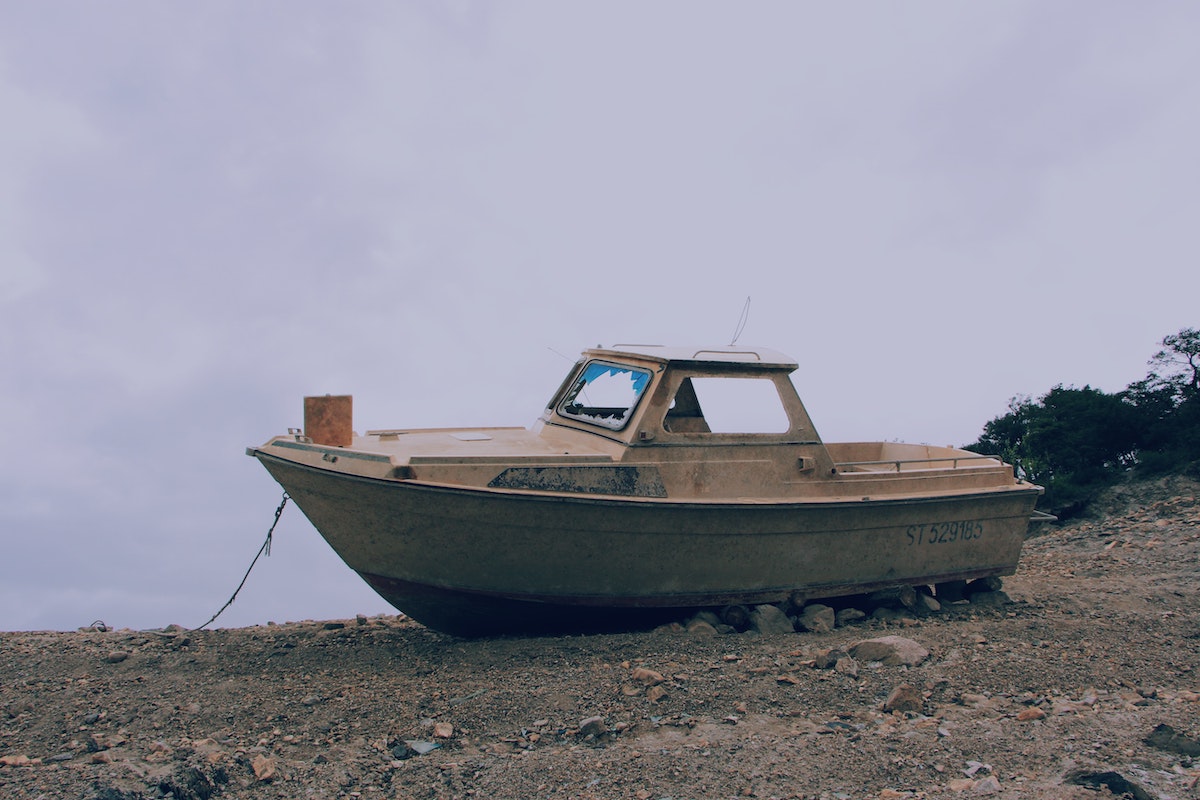 Tackling the abandoned boats in Venice lagoon
With the generous help and support of Cantine Maschio, we have been able to develop a multi-step solution in the identification, removal, and recycling of any ghost boats found in a particular area of the lagoon.
We began with the development of a dedicated app which will facilitate the identification of any abandoned boats, allowing the user to correctly determine factors such as the exact geolocation of the boat, its materials, its size, whether it is broken or damaged, whether it still has its engine, and more. This data will be invaluable in the removal and consequential recycling/correct disposal of the identified boats.
Alongside this, we will carry out sampling of the water-muds which have been in contact with these abandoned boats for further analysis and toxicology investigations on the presence of potential microcontaminants and microplastics.
"We are thrilled to be able to carry out this key pilot project thanks to the invaluable donation from Cantine Maschio," states Davide Poletto, Executive Director of VLPF. "This will allow us to put in place the best resources in our area at multiple levels, aiming to encourage collective engagement. We would like to remind the public that abandoning waste is a criminal offence, and that we will document and report any violation to the relevant authorities."
Follow our social media channels for more updates on the Ghost Boats project!